Wail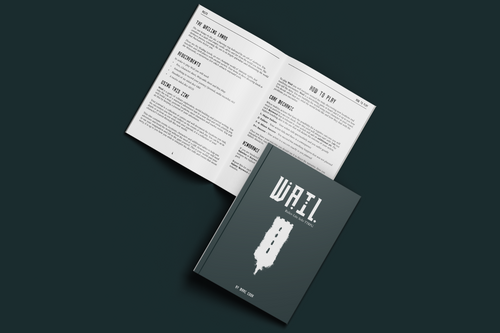 Wail has finally fully launched! I've finished up the last of the art, done a final check and it is now available.
First a small apology. Finishing up the artwork has taken longer than I intended and so I am behind on schedule. My new job has been wonderful but has also taken all of my energy so the timings on this project just slipped past. Thank you all for your patience while I've been finishing it up.
With the full version of Wail available digitally I have also put in an order for a print run of physical copies. I should have these with me by the end of next week which means in 2 weeks everyone who backed this game during the itchfunding period will receive an email containing a discount code towards a copy of Wail on the Wail Forge Etsy. This email will also contain a code to download the Wailing Hex Kit.
My next task is to get the Wailing Hex Kit finished and ready for Wail to go live on my store. I'll post some images of the physical copies when they arrive. I've been knocking about some ideas for more regions and content for Wail but that will have to wait for another day.
Files
Mysteries-of-Wail.pdf
5 MB
May 15, 2022
Wail_v1Collected.zip
16 MB
May 15, 2022