Landfall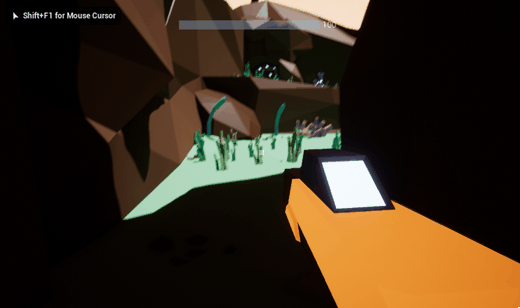 While travelling across the world in Landfall you will encounter a wide variety of lifeforms. These creatures can be scanned to fill your scan log with information about their behaviors and lifestyle. They serve as one of the primary collectables in the game and finding all of them will require you to explore every corner of the map.
In order to develop the creatures I needed to ensure they were all stylistically consistent with their surroundings and world. Their designs started with and idea for they type of creature, for example a small non-hostile mouse-like creature which hides hear rocky outcrops or a larger grazing creature for the open fields. These were then turned into paper sketches defining shapes and forms before being refined to create a more solid and cleaner representation. These are then coloured, keeping to a muted palette in order to match the visual aesthetic of the game world.
The designs were heavily focused on the shapes used to create the creatures in order to give them a striking and unique visual appeal. However it was also done as the low poly art style needed to be very representative of the creature without having a large amount of faces or small details. For example the above creature uses a rectangular shape combined with a large scale in order to tower over the player.

The initial idea design is for the player to have access to 16 creature types across the entire game world which can be scanned and interacted with. However it is possible this number will increase depending on the ease of creating the AI behaviours for types for each creature. Depending on the difficulty of this it is possible that the creature count will be increased to 20 or 24.
Most of the creature varieties have been concepted and once the main behaviour AI types have been tested on the three current creatures these concepts will be modeled using Blender, animated and finally integrated into the game.