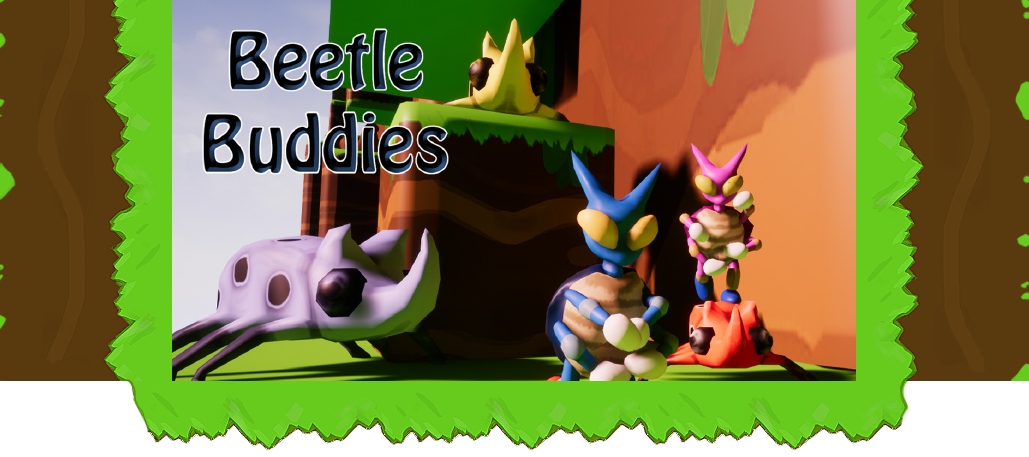 Beetle Buddies
A downloadable game for Windows
Created for the University of Portsmouth Gamejam 2017 this game is a platformer/racing game. Over the course of a 5 day week teams created games within the University of Portsmouth based on any or all of three randomly selected Wikipedia articles.
Take control of a genetically engineered beetle as you travel across 4 levels jumping on bugs and avoiding the poisonous flying beetles. You can go it alone or bring a friend to travel through the levels. Or take on each other in the split screen race more and see who is the fastest Beetle Buddy.
This version of the game removes the pits from the original Gamejam version which were inescapable and caused the game to be broken.
Controls
Keyboard
The keyboard can only be used for the first player or in single player mode.
The mouse is needed for the menu selection.
Up Arrow/Space - Jump/Double Jump
Left/Right Arrow - Move
Right Shift - Dash
Controller
Right Face Button - Jump/Double Jump
Control Stick - Move
Bottom Face Button - Dash

Select - Spawn Player 2
UoP Gamejam
The UoP Gamejam (http://gamejam.port.ac.uk/) takes place every year and has 4 days (Monday to Thursday) of 9am-5pm work before a few hours on Friday morning to finish up and package games before every team demos their games to the other participants and industry judges.
Game created by @MarcCook_ and @LeeAnnPicknett.
Music from OpenGameArt by:
https://opengameart.org/users/subspaceaudio