A Painted World
You have been dragged into the blank canvas of a painted world. Explore the world, uncover secrets, define the location, and in the end you will be left with a painted world of your own design.
A Painted World is a TTRPG for 1+ players which see's you venture into a blank world and build it through art. To play you will gather your art supplies and canvas (or just a big sheet of paper), quickly generate a character, then begin exploring using a series of random tables.
As you venture across the land you add the landmarks and any battles to the canvas. By the end of your session you should have an art piece detailing the lands and journey of your own painted world.
The game uses a simple 3 stat system: Iron for Strength actions, Root for Dexterity actions and Ash for Spells and logic actions. Depending on one of the four profession these stats will use different dice when checking against to enemy and trap difficulty. Included in this zine are the full rules on how to play, quickly rolling a character and 8 tables including landmarks, items, encounters and foes.
A Painted World can be played solo or as a group activity gathered around a single canvas.
This game contains the Rules as a 2 sided a4 sheet that you fold yourself. If you need a guide on how to fold the sheet check this video here.
To play A Painted World you will need:
The rules zine Printed and folded
Pen and paper or other art supplies
Assorted Dice (d4, d6, d10, d12, d20)
Created for the One-Page RPG Jam 2022.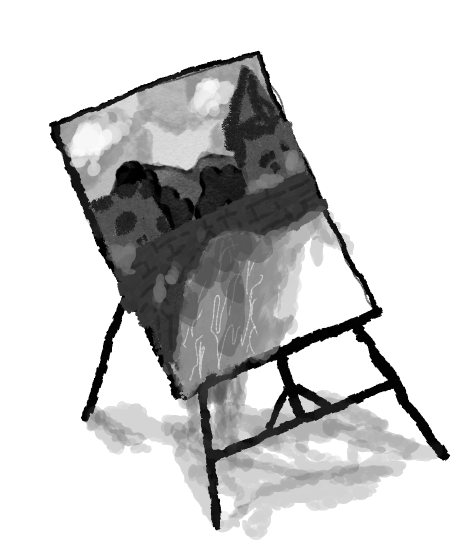 Purchase
In order to download this game you must purchase it at or above the minimum price of $2 USD. You will get access to the following files:
Exclusive content
Support this game at or above a special price point to receive something exclusive.
Community Copy
If you can't afford a copy please feel free to download a community copy. All I ask is that you consider leaving a rating for it on itch and maybe check out my other games.